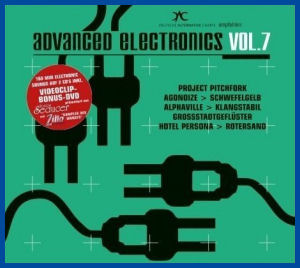 "[...]Unlike acoustic musicans, the artists which use synths and samplers can step out of the bataries nature give us and invent a completely new sound[...]"
Peter Spiles (Project Pitchfork) Octomber 2008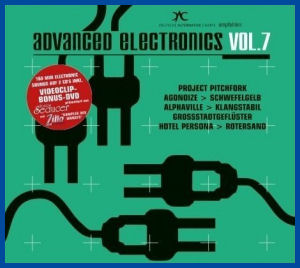 Η καθιερωμένη τα τελευταία χρόνια κυκλοφορία τις συλλογής
ADVANCED ELECTRONICS
, φτάνει στο 7ο έτος της. Με επιλογές κυρίως από κομμάτια και κυκλοφορίες που μπήκαν το 2007 στο Deuche Alternative Charts (DAC), αποκλειστικά remix κτλ. Το εισαγωγικό σημείωμα της συλλογής φέτος είναι του
Peter Spiles
των
Project Pitchfork
.
Info:
2 CD (18 + 16 Tracks)
1 DVD (16 Trakcs)
Gene: Electro-Industrial/Elecroclash/Hard-Electro
2008: μια χρονιά που γενικά δεν έδωσε πολλά πράγματα
Ξεκινάω επιλέγοντας τα κατά τη γνώμη μου καλλίτερα Audio & DVD tracks της συλλογής.
Felix Marc
(the singer of Diorama & Frozen Plasma):
Digital Love (room 805 Remix)
– το καλύτερο audio track!
(H ψηφιακή-γυναικεία φωνή που ακούγεται είναι ιδiα με την φωνή που ακούγετε στο PC-game "Portal"!)
Alphaville: Dance With Me
(Sebastian Komor (icon of coil, ect) 2008 Edit Mix)
Squarehead Feat. Zombie Girl: Rockin'
Scandy
(Andy LaPlagua project, the singer of IOC & Combichrist):
Million Dollar Weekend
Kite: Ways To DanceRotersand: Rushing
Ultima Bleep: We Stand Alone
Grossstadtgefluster: Lebenslauf
Hotel Persona Feat. Brian Molko
(Placebo)
: Modern Kids
Ticon: Models & Cocaine
Project Pitchfork: If I Could
Funker Vogt: White Trash (live)
DVD:
Welle: Erdball: Ich bin aus Plastik (live)
– το καλύτερο DVD track!
Camuflage: We are the loversFelix Marc: Give Back the MomentsFaderhead: TZDV
(Μες το clip διακρίνεις κάπου κάπου και τον τραγουδιστή των And One)
State Of Union: RadiomanDeathstars: Blitzkrien
Στη συλλογή επίσης υπάρχουν κομμάτια για τους φίλους του TBM,hard-electro (
agonoize
,
retrosic
,
KiEw
ect), καθώς και το '
returns
"
τον Brudershaft
, που πoλλοι το περιμένουν από το 2005…..